Encore Worsted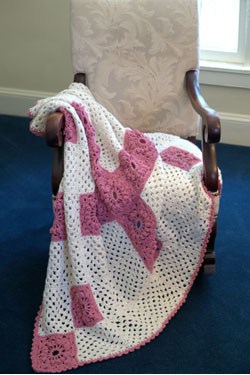 Pattern Number (8 digits):
Size: Approx. 42" x 55".
Materials:
Encore Worsted: 6 –100g balls color 0146 (natural); 4—100g ball colors 9408 (rose)
Gauge: Each finished Square measures 6" x 6".
Needles: Size H (5.0mm) crochet hook.
There are 44 squares of Rose,
19 squares of Natural, for a total of 63 squares.
Squares are arranged 7 horizontally and
9 vertically.
Arrange colors as desired, or according to photo.