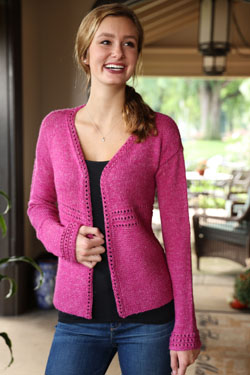 Correction for Pattern # (Pattern Errata Only):
Changed (Pattern Errata Only):
Wednesday, March 27, 2019 - 08:30
Left Front
CO 47 (55, 63, 69, 77, 85) sts using US Size 5. Work in Garter Stitch (knit every row) until piece measures 10" from cast on edge.
Work Eyelet Pattern once.
Change to US Size 6.
Neck Shaping
Wet block fronts and backs to measurements as indicated on schematic. Seam fronts to back from hem to marked armhole rows. Seam shoulders from marked stitches on back across to armhole edge to bound off edge of front shoulders.
Finishing
Work in any loose ends, wet block finished garment if desired.