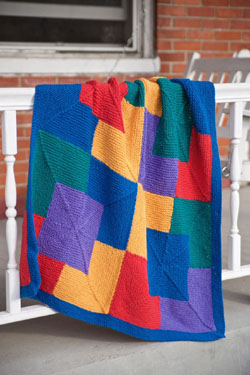 Correction for Pattern # (Pattern Errata Only):
Changed (Pattern Errata Only):
Monday, February 17, 2020 - 10:15
Encore Worsted:
1—100g ball EACH of 4 colors; we used
9854 purple, 1014 gold , 9852 green, 9853 red, 2—100g balls of 9855 blue
M = place marker on marked stitch – use a safety pin
Begin
Garter Stitch Square 1
With color purple and straight needles. CO 63 sts.
Row 1 (WS): K31, place marker next st as you purl it, p1, k31.
Row 2 (RS): K to 1 st before marked stitch, sl 2 tog as if to k, remove m, k1, p2sso, replace m back on that center st, k to end of row—2 sts dec'd.
Border (RS): With circular needle and Blue, pick up and knit 124 sts along top edge (31 sts for each mitered square).