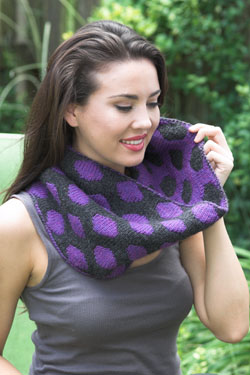 Correction for Pattern # (Pattern Errata Only):
Changed (Pattern Errata Only):
Wednesday, June 18, 2014 - 11:45
Begin
Holding both strands together, tie a knot about 3" from the tail ends of the yarn. This will join the yarn strands together. You will be CO with both strands- counting the double strand as a single strand of yarn.
CO 140 sts (280 strands of yarn on needle). Join in the round, being careful not to twist and pm.
Work all chart rounds from right to left for 75 rounds (2 full repeats of the chart + 23 rounds). BO on next round by holding 2 strands of yarn together as one, and working a grey and purple stitch together as one.
Weave in all ends.