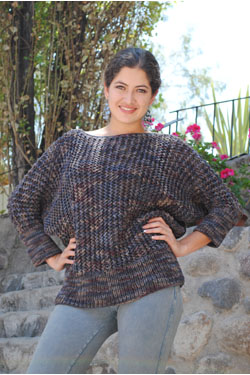 Correction for Pattern # (Pattern Errata Only):
Changed (Pattern Errata Only):
Thursday, May 16, 2013 - 11:45
Directions:
Front:
Cast on 62(66, 70) sts with largest needles. Work in 1x1 Rib for 4.75(5.5, 5.5)". End on WS row. Next begin the Crossed 2x1 Rib stitch, increasing 1 st at the beg of each row-to both sides of the piece until you've completed 23(23.75, 24.5)".
Continue to knit straight (sleeves) for 2.5(3.25, 4)" more at this point you will begin to decrease for the neck.
Begin decreasing for front neck. Dec the sts centrally while knitting 2.5" more. Decrease 2 sts at the beginning of each neck edge.
Cast off all the sts remaining when neckline measures 2.5".
Back:
Work same as Front until piece measures 25.5(26, 27)". Knit for 1.5" more and begin to create the decrease for the neck of .75". Decrease 1 st in each row for 2 rows-creating the decrease the same as the front of the garment.
Cuffs:
With smallest needles, cast on 30(32, 34) sts. Work in 1x1 Rib st for 4.75(5.5, 6.75)". Bind off. Make 2.
Finishing:
Sew Side Seams together. Sew Shoulder/Sleeve Seams together. Attach cuffs to ends of dolman shaping. Weave in ends.
Pattern Type(s):
Sweaters - Pullover
Sweaters - Women