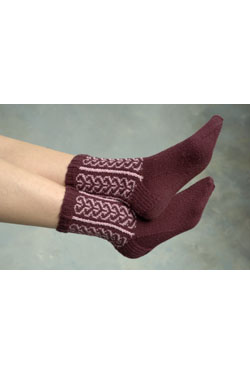 Correction for Pattern # (Pattern Errata Only):
Changed (Pattern Errata Only):
Wednesday, February 16, 2011 - 11:45
Heel Turn:
Row 1: P20, p2tog. p1, turn.
Row 2: Sl1, k8 ssk, turn.
Row 3: Sl1, p8, p2tog, turn
Repeat rows 2 & 3 until all stitches are used up.
End working row 2. 10 sts remain.

Gusset
Rounds now start at the center of the sole of the foot. Divide heel sts, so that there are 5 sts on each needle.