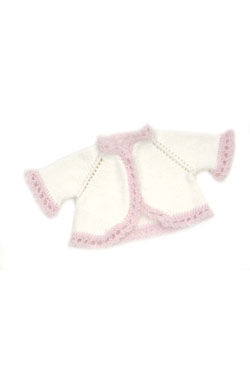 Correction for Pattern # (Pattern Errata Only):
Changed (Pattern Errata Only):
Friday, July 30, 2010 - 14:30
Bind Off.
Edging
With RS facing, Pick up and knit one stitch in every other stitch across entire front, neck, shoulder, back, shoulder, neck, and other front- all the way around. Make sure to have an odd number of sts. Do not join in the round. Turn. Knit one row.
Cut yarn and attach Angora. Follow directions for lace edging for all sts.

Sleeves
With Baby Boutique and WS facing, purl all sts from stitch holder. 35, (39, 43, 46, 50) sts.
Work 2", (3, 4, 5, 6) in st st, decreasing 1 st at the beginning and end of row every 1".
31, (33, 35, 36, 38) sts. Knit plain for 1". Work Lace Edging. Repeat for other sleeve. Sew sleeve seams.