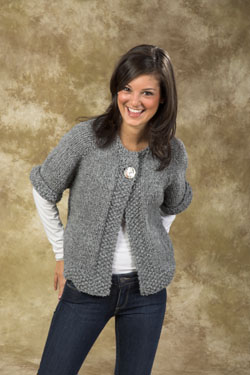 Correction for Pattern # (Pattern Errata Only):
Changed (Pattern Errata Only):
Monday, September 20, 2010 - 09:22
Beginning at the neck edge with 24" circular, loosely cast on 36 (38, 40, 42) sts.

Row 6: Cast on 6 sts at beg and end of row for front section, while continuing to increase
as in row 2.


Continue to inc 1 st before and after each marker every other round until there are 54 (56,
58, 60) sts across the back section. Work the 6 sts at the beg and end in seed stitch for
the front border. Work 1 buttonhole 1" down from the beg of border on the right side by
working 2 sts in seed, bind off 2 sts in seed, work 2 sts in seed. On the next row cast on 2
sts over bound off sts of previous row.
Work as established (with increases) until piece measures 10 (10.5, 11, 11.5)" from beg of
work.