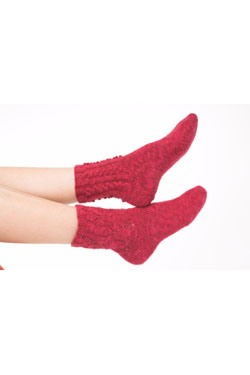 Correction for Pattern # (Pattern Errata Only):
Changed (Pattern Errata Only):
Tuesday, November 17, 2009 - 09:30
The Cuff:
Once both heels are completed, resume stitching in the round from the front side to the back. On the front side, begin the pattern for the cuff using either the text or the chart. On the backside, begin at the same point in the pattern stitch, BUT be sure to decrease out the extra picked up stitches at the beginning and end of the first pattern row. You will need 56 sts. Increase sts in between the heel and the foot if you are following directions for the smaller foot. At this point, the pattern will wrap around from the front to the back.
Work the cuff for a total of four pattern repeats or height desired. Change to K2P2 rib for 3/4 inch (or as desired). Reserve at least 24" of yarn for the bind off.